What will be the best marriage dates for your wedding in 2019?
The year 2019 is here and if you are planning your wedding in this year then you must be keen on finding a suitable marriage date in 2019! We all are aware that finding the right Hindu wedding dates in 2019 as per the Hindu calendar can be a tedious task… Above that, the couples should be totally aware of the options available as, the season, timing as well as the weekday's matter a lot. Here is a list as per the months in 2019 to make your selection a cakewalk!
Getting the auspicious date for weddings is one of the important things in the whole wedding planning process. If you and your family is a true believer of matching Kundalis and other stuff, then you need to consult your family Priest for proper auspicious wedding date according to you. Plus, finalizing the auspicious dates as soon as possible will help to set up everything and plan the wedding accordingly so that everyone can also get ready for your marriage including you too.
Best Wedding Dates in 2019 (According to Hindu Muhurats):
Wedding Dates in January 2019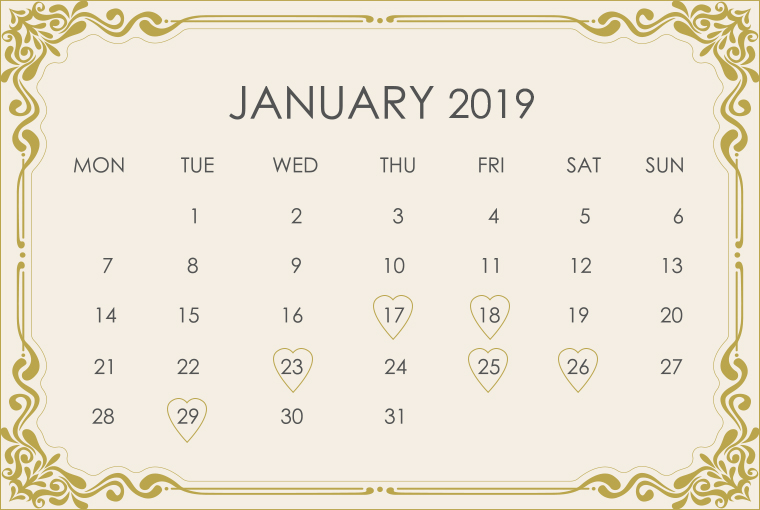 The auspicious dates in this month include 17th, 18th 23rd, 25th, 26th, and 29th. In case, you are willing for a destination wedding, then these dates are good to go!
Wedding Dates in February 2019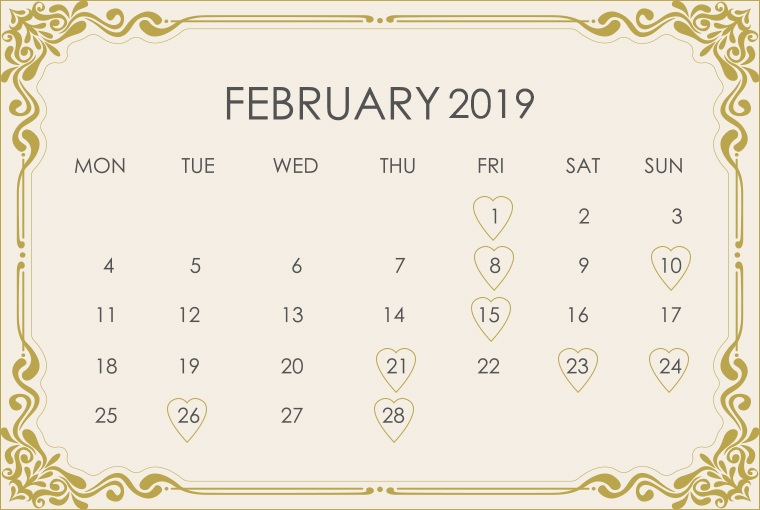 The month of February is loaded with weddings dates starting from 1st, 8th than 10th, 15th, 21st, 23rd, 24th, 26th and 28th. Four amongst them actually fall on the weekends so make your bookings as early as possible.
Wedding Dates in March 2019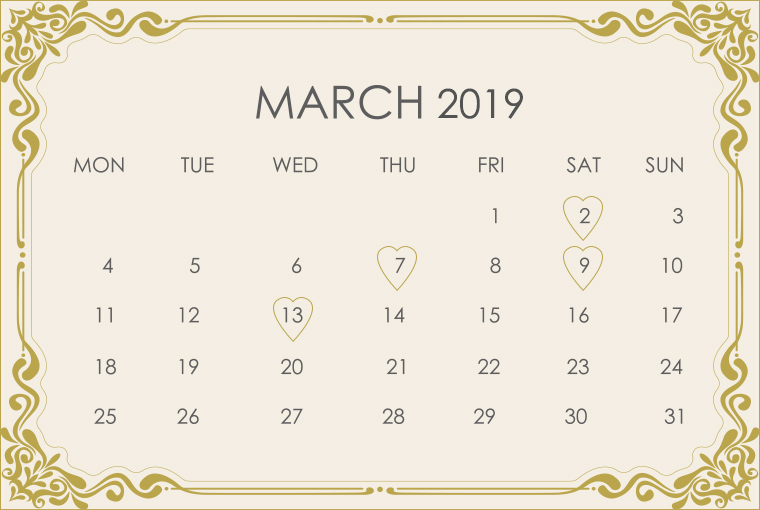 Unlike February, the month of March just has 5 suitable wedding dates. They start from 2nd, 7th to 9th, then 13th.  You can even plan a Holi themed mehendi! So what are you waiting for? Start planning now!
Wedding Dates in April 2019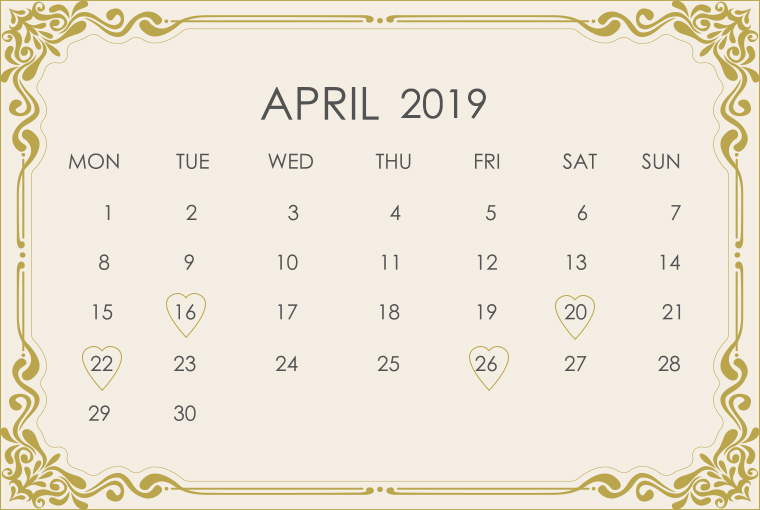 The month of April is filled with so many auspicious dates. The wedding mahurats start from 16th to 20th then 22nd to 26th. Looking for booking a suitable venue for your marriage in April 2019? Don't worry! We got you covered! Book now. 
Wedding Dates in May 2019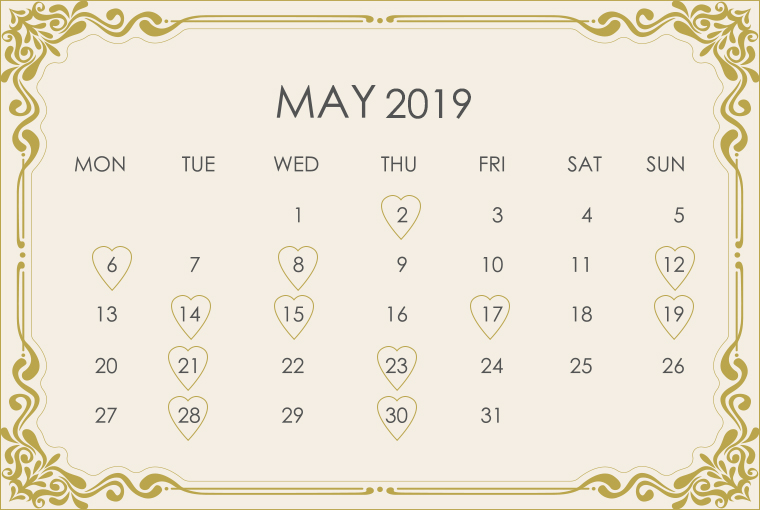 You will seriously won't believe that the month of May is filled with 14 suitable dates to get married. The auspicious dates in the month of May start from 2nd then 6th to 8th, 12th, 14th, 15th, 17th, 19th, 21st, 23rd, and 28th to 30th.
Wedding Dates in June 2019
Previously June was considered to be an offseason but this year has plenty of dates to get married. The wedding dates in this month include 8th to 10th then 12th to 19th, 25th, and 26th. It will be a summer month so it is suggested to go for a closed banquet halls setting which is very much comfortable for this season.
Wedding Dates in July 2019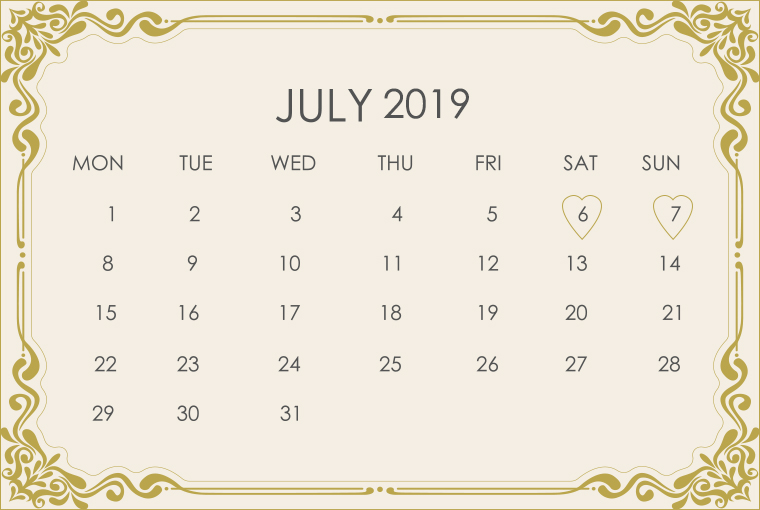 There are just two dates for wedding according to the Hindu calendar in this month of July that includes 6th and 7th. The month of July will also give you a chance to grab some great deals.
Wedding Dates in August, September & October 2019
Unfortunately, all these months don't have any mahurat dates available.
Wedding Dates in November 2019
November is the onset of the winter wedding season! The dates include 08th to 10th, 14th then 22nd to 24th and 30th.
Wedding Dates in December 2019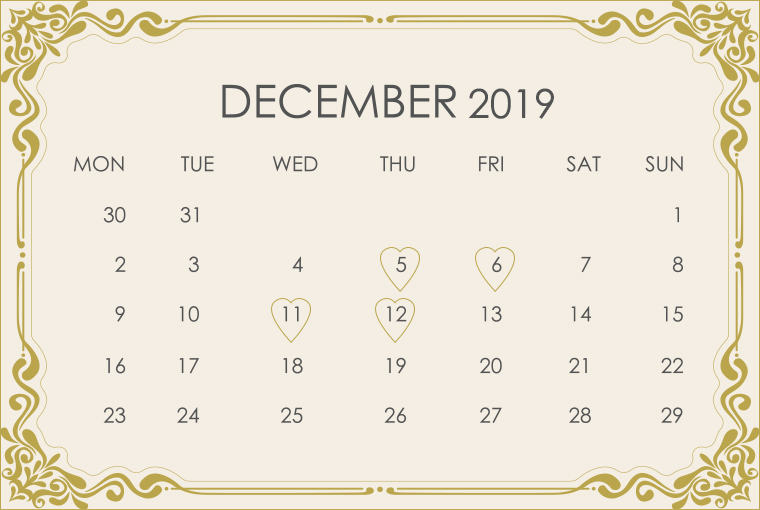 December used to be the holy grail of wedding month but this year it just has four such dates that include 5th, 6th, 11th and 12th.
We hope that you find your suitable wedding date in 2019 from the mentioned above that will prove to be lucky for your happy married life.
P.S. The wedding dates are generic and you still have to consult your pandit for the exact date based on your kundalis!