How to get ready for your virtual wedding?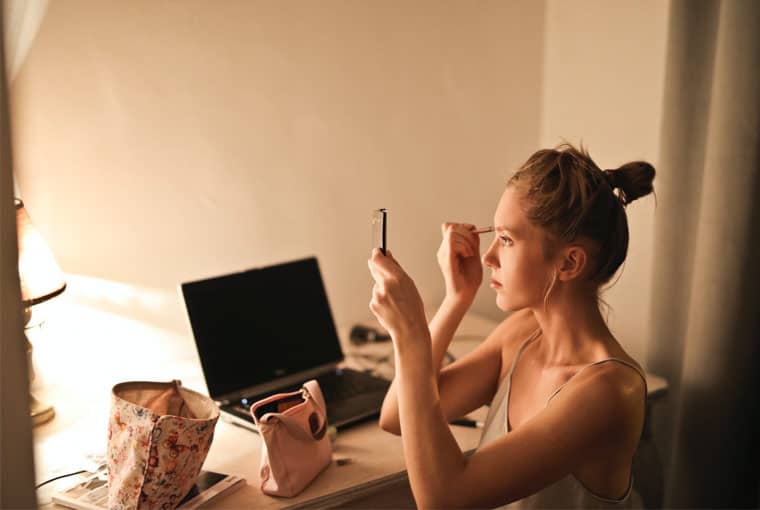 There are many couples who have to postpone their spring and summer wedding in the light of coronavirus pandemic. Though there are some couples who have opted for intimate or virtual weddings in order to maintain all the social-distancing protocols. As everyone has to maintain those protocols, therefore, everything for weddings has gone DIY. But for a bride, her bridal look is of the utmost importance even if you are getting married in a virtual ceremony. Now, all you brides must be thinking about how to prep yourself for your virtual wedding.
You can take the help of your beauty vendor from home and look all radiant on your most important day! Here are some ways to do it!
Experiment a little!
We know, it's your virtual wedding, so you can go to experiment with some different colours, styles or even products. As you are at home, you can give some new styles a try. As these virtual weddings are a new thing, you can go for anything you want to look great in your virtual call with your family and friends.  Plus, there will be fewer people gazing at you, therefore you don't need to be scared of trying something new.
How about following your basic makeup routine?
If you want to look your natural best and don't want to experiment with something new, then going with your style of makeup and hair is the best thing to do. If you apply makeup everyday then this is should be your wedding look to look like you! All you want is look beautiful on your special day and what's better than your own go-to look? Just trust yourself and if you want to go a little different then you can add a smokey eye or a bold lipstick or extra blush to nail that wedding look.
Priming your skin is very important
A good base is very important to have flawless makeup. You need to follow a good skincare routine so that your makeup accentuates your beauty really well. Go with your everyday beauty regime and pamper your skin in the best way you can. You can even consult your MUA or derma to know what's best for you!
Adding extra colours will help
You really need to have a pop of colour for your virtual calls and for that, you can go for brighter lipstick shades and blush. The cameras have the tendency to wash you out, so you really need to add extra colour to your complexion is key. You also need to wear eyeshadow on your eyes and don't forget to add extra blush to the apples of your cheeks and rocking a darker lipstick.
Blending is key!
You really need to blend your makeup and for that, you need to have great brushes. Blending out the colours of your eyeshadow seamlessly will surely make your eyes to pop. Just start with a base shadow and then using a darker colour on the outer corners of your eyes, blending it inwards through your crease. This technique will give you a natural look and using a fluffy brush to smooth out the edges and blending the colours together is a must.
Prepping your hair is also important
Hair experts recommended that it's best to wash your hair and blow-dry your hair the night before the big day rather than doing it in the morning. Don't try any new brand of shampoo and conditioner—especially if you've been happy with the one you've been using.
Go simple with your hairstyles
You can go for two fool-proof options for your wedding hair. You can either go for tousled, low bun secured with an elastic. It's not only sexy, fun and easy while giving the perfect amount of elegance. Or you can go for wearing the hair down, with loose, soft waves.
Stick to your personal style
The best wedding way to deck up yourself for your wedding day is by staying true to yourself. Just stick with your personal style! Your family and friends love the way you are, so if you don't want to something extra, so don't go for it!
Pro tip: Just, practice the look you want and you are good to go with your wedding look!