Important things to know before going for your Bridal Lehenga Fittings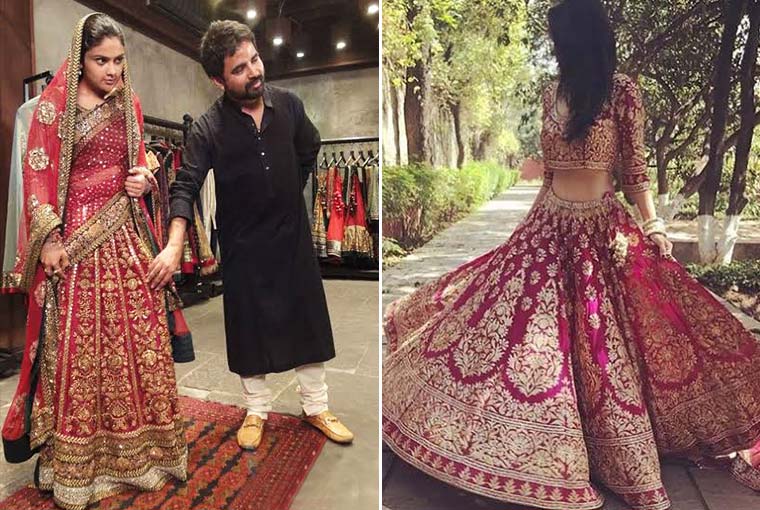 After months of hunting and trials, you must have finalized the wedding lehenga and just like every bride you must be excited to go for the dress fittings after waiting for so many days. But, in that excitement you should not forget that it would be the most important outfit of your life, therefore you can't be lenient the way it looks as well as fits. You have to give attention to all its details to make it look all perfect on you. You, being the centre of attraction of your wedding, have to make an impact with your look.
We know you will be going through mixed emotions about your wedding and your attire so, here we are with a smart checklist that you can keep handy as you go for your bridal lehenga fittings.
Just keep in mind the below-mentioned tips so you won't regret later on.
Test those zippers and hooks twice
Zippers are risky as well as a tricky business. They can betray you and even ruin your big day! Therefore, check them as much as you can so that you can be assured its quality as well as durability. Also, check all the hooks as well as doris that will be keeping your lehenga in place.
Wear the same lingerie that you will be wearing on your D-Day!
Trust us, you will be really thankful for this tip! This is the most important thing to keep in mind at the time of fittings. This will give you a clear picture of how your lehenga will actually look. You will be able to analyse any kind of changes required in it's fitting and then get it altered accordingly. The same thing applies with the shapewear, you are going to wear on your functions.
Just move around a bit in the lehenga
Being the bride or the daughter in law you may have to get up and greet the guests at the wedding day so it is advised that you try sitting, standing and moving around in your lehenga to check its comfort. Make sure that your lehenga's skirt or blouse isn't making you uncomfortable at any position as you have to be 100% comfortable in your bridal dress to get through the day.
Take your jewellery with you
It is really important to see that your jewellery is in sync with the neckline of your blouse. It will give you an idea as to how you are going to look at your D-Day! Just try the jewellery and also check if it is not getting mixed with the embroidery of your lehenga.
Try your lehenga with your bridal footwear
We also advise you to carry your bridal footwear with you on your fitting day. This will give you the idea about the know the exact length of the lehenga. Also, make sure that you can easily walk in those heels wearing your bridal lehenga.
Don't forget to drape your dupattas for the final look
If you are going for double dupattas, then do check them by draping them both at the day of your fittings. You have to see if they look good on you by asking the designer to drape it for you. You will get a fair idea of your overall look.
Pro tip: Don't go for a heavy dupatta for your head.
PS- Go for trials at least a month before the day and also don't hesitate to tell them if you are not satisfied with anything as you just cannot compromise with your bridal lehenga.
Also Read : How To Surprise Your Wife-To-Be With Some Sweet And Romantic Gestures Before The Wedding!