Things you must check while Lehenga Fittings!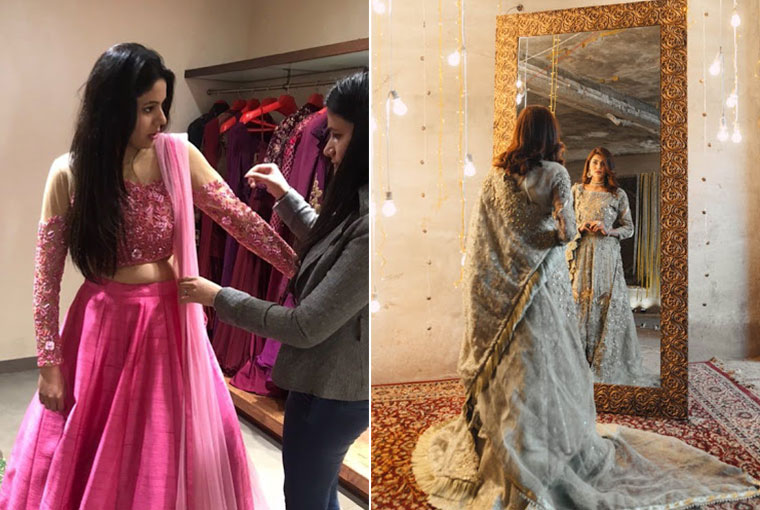 For brides, their lehenga needs to be perfect on their wedding day! You must have gone from store to store to find that perfect lehenga for your wedding therefore you want it to fit well too. A wedding lehenga usually takes months to get ready and the final lehenga fitting usually is done about 15 days before your wedding. Though you are aware of exactly how it's gonna look, you still get butterflies in your tummy when you see it as well as try it on! You should know that your bridal fitting is the last chance to make any changes or tweaks to your lehenga, so it's essential you keep a check on these little details!
Ditch the lipstick on your trial day
 Don't wear a dark or any shade of lipstick on your fitting day. Not only that we would advise you to ditch applying makeup at all. You must be thinking why we are suggesting it… the main reason behind this is that your makeup or lipstick can leave a stain on your blouse while trying it which would be the last thing you want.
 Carry the same lingerie you are wearing on the wedding day
Trying your blouse and lehenga with the same lingerie you are planning on your wedding day is essential. This will help you see that the bra or the body shaper was chosen for your D-day is right or not. You will also be able to see what kind of padding does it needs or if you want more of it or lessen it.
Don't forget to check the zips, hooks and stitches 
The most important thing which you should check is the zips, hooks, stitches as well as the embroidery of lehenga. You need to look at them closely so that you can check any kind of over stitches or places where the work might be coming off or missing. Also, do it for the whole outfit including your lehenga skirt, the blouse and the dupatta!
Check if the skirt stays at its place without  the dori
If you are getting your lehenga from a reputed store or designer then you will be getting a hook along with the dori. The hook helps to make your lehenga stay in place and the dori is just extra support. If your lehenga's skirt does not have a hook then the dori can bunch up with the weight of holding the lehenga up and giving it a shabby look. 
Check that your lehenga doesn't dig into your tummy 
Wedding functions are not easy to handle for a bride. Be it your wedding, engagement or mehendi you will be enjoying, having sleepless nights and eating as well as drinking which can make your tummy bloated. This can lead to rashes and pain because of it. Therefore, while trying it make sure that it's not tight-fitted. There should be some allowance giving you comfort even with a bloated belly.
Wear it with the same wedding footwear that you have chosen
You should try your wedding lehenga with the same bridal heels so that you can see the right length of your lehenga. Your lehenga's skirt should neither sweep the floor too much nor show too much of your shoes. Your shoes will help you to see if that's the right length!  
Placement of the cancan 
The look of your lehenga depends upon its flare. Therefore, you should check in the mirror the right placement of the cancan. You have to see if it's sticking out of your lehenga or do you want it to be more or less! 
Try it with your bridal jewellery and accessories
This is really important as well. You have to check if the jewellery is sitting right with the blouse. See if it's covering too much of the neckline or is it just the way you want.  Also, check if it's getting stuck with your embroidery or not. These things can get too uncomfortable for you on your wedding day!
Drape the dupatta the way you want
Styling the dupatta the way is important to see if the way you decided is looking good or not. Plus, this will also help you to see it's comfortable or you want to make some changes to it. This would be your final chance to make any kind of tweaks!
Sit and move in your lehenga to see its comfort
The most important thing to do! Move about in your lehenga, sit and even shake it up a little- see if it's absolutely comfortable and manageable since the next time you'll be wearing it will be at your wedding!
Get your customisations
You need to pay close attention to all the details of your lehenga to see if you want to change or customise anything! It can be anything like the tassle or border of the dupatta or anything! Such things can make a difference, now is the time to ask for whatever you want.
Last but not least click lots of pictures from every angle
Yes, you read it right! You should take pictures from every angle and while doing all the activities we suggested! You will have a picture from every angle while you sit, stand or move in that lehenga. Those pictures will show you all the details such as whether you have a tire while sitting or whether you are revealing more than you intend to. And on top of it, you get to see how gorgeous you look! Wink Wink…
Just keep these in mind and you are good to go!