Things you should keep in mind while Working With a Wedding Makeup Artist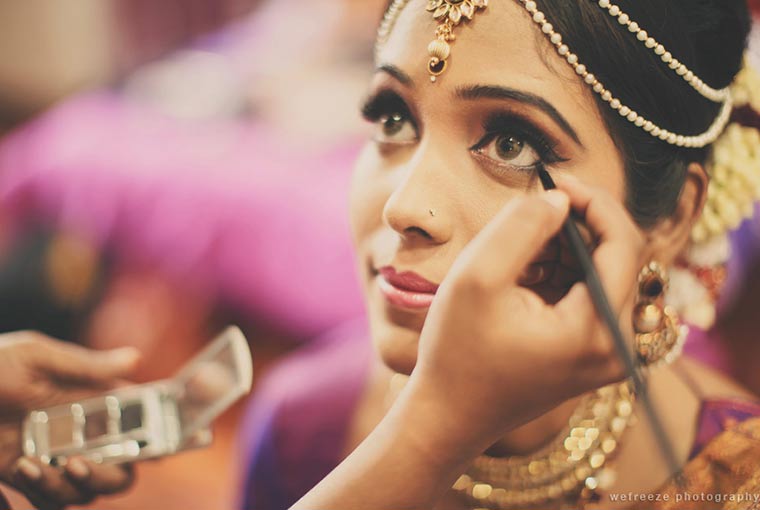 We totally get it— things are really crazy when it comes to the most special day of your life… your wedding day! You want to look flawless with your makeup game on point. We always look for a professional wedding makeup artist that will make us look all stunning on the wedding day. But, if this is the first time you will be working with a beauty pro then, there are some things that we would want you to do or keep in mind.
Here's everything that you really need to consider while working with a wedding makeup artist.
Take some inspiration
We have always advised you to do your research for your wedding. Even you must have looked for trending makeup looks on Pinterest, Instagram and various wedding portals. The easiest way to see how your makeup turned out to be is to compare it to the reference photo. You must have liked some celebrity having a major beauty moment in a movie or the red carpet, which you really want to try. Show these images to your MUA so that they can recreate that look for you.
Find the Right MUA
The best and easiest way to find the right MUA is by asking your friends. The word of mouth really matters especially when it comes to looking for wedding vendors. You can even ask your wedding photographer to give you suggestions as they have worked with so many of them in the past. The most trending way is to find them on wedding planning portals where you can search them by your location and the best part is that you can also go through reviews from real brides. Also, do check the MUA's Instagram page to see what kind of work do they specialize in.
Fix Your Makeup Trial
After sending the reference pictures to your MUA, you should book your makeup trial with them. You should do it as soon as possible as you would be eager to know if the beauty pro is the right one for you or not and if the look you've been envisioning suits you or not. But, always keep in mind that the inspiration photo should be just an inspiration as you also need to be open to the suggestions from your makeup artist. Being the experienced ones, they will guide you with the best.
Right Timing is the key
It is very much important to keep the timing of the ceremony in mind. If you have a day function then schedule your trial by the day and if it is the night ceremony then go for the trial accordingly. Also, take pictures from different angles and pay close attention to how makeup products feel on your skin. You would get to know about any skin reactions or irritations from any of the products.
We hope these tips will make your ride a smoother one on your wedding day!