When it the best time to start sending out wedding invites?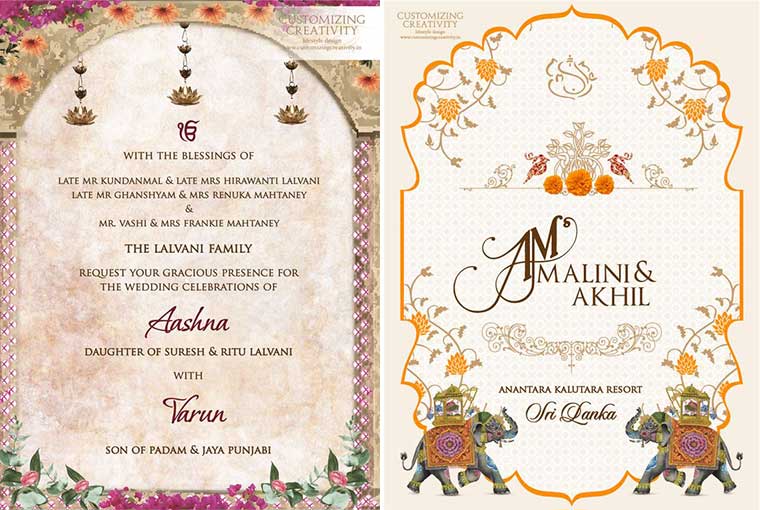 Your wedding invites sets the real vibe of your wedding! It sets the right mood for the celebration that also excites your guests too who look forward to your wedding! It's when all of that begins! After booking your venue, caterer and all the shopping is done, this is what gives the feeling of a new beginning! Your wedding invites are designed so that you can invite your loved ones to your D-Day! In all that celebration spirit, you should know when do you strictly invite people. When you should send the save-the-dates? What about e-invites? Here's everything you should know. Here's the perfect timeline that will help you send the invites at the right time.
Beginning with… finalizing the guest list
Before getting started with invites, you need to finalize your guest list. Trust us, it's not easy to freeze the final guest list with your family. There would be people that you want to invite but your parents have some other views about it and vice versa. Even your venue booking would give you the right estimate for the guests.
Then comes the sorting into categories
In Indian weddings, this is really common, not everyone is invited to all the functions. If the same goes for you, you need to sort the invites into categories, event-wise. You can make a list into categories such as only wedding attendees, all-event attendees, only reception attendees and so on. Doing this will give you a clear idea of regarding the right number of cards and inner leaves needed to print.
Making the decision regarding the style of the invites
The pandemic has encouraged people to switch to e-invites! People have even accepted this trend except for some old people who are not that tech-savvy! Therefore, you need to decide as well as re-sort the categories into digital ones and physical ones. You can also send a save-the-date digitally and then a physical wedding card!
Getting the invites designed
Your design for the invites should be ready at least 5 months before the wedding. This will give you enough time to print, label and even start with the distribution. It takes almost 3-4 weeks for vendors to print them so that gives you a head start to begin the distribution at least 3 months prior to the wedding. Also if you are thinking of e-invites, you can push all of this to 2 months before the wedding. We are totally loving these FNP E-invites for that hassle-free invitation.
Save The Date
The save-the-date should be sent at least 5-6 months prior to the wedding. This will help your out-of-town guests to block dates as well as make arrangements accordingly. If you are planning a destination wedding, the more notice you give, the better as travel plans needs to be altered.
Wedding Invite Favours
Wedding invites in India are given with favours gifts or at least sweets. It is advised to order the gift hampers with the invites so that they arrive at the same time. If you are planning to gift edible gifts, then order them close to your distribution dates as these can be perishable items.
Invite Distribution
Once everything is prepped, you have to begin with the distribution. Ideally, you should start at least a month before the wedding so that you get ample time to distribute and not cut it too close to the wedding. If you are planning to give physical gifts with your invites, consider that while you start your distribution. Aim to finish all your invites at least 2 weeks before the wedding.
Video Invites
Send out the video invitations at least 45 days prior to the wedding. You can also have a small reminder video going out 2weeks prior so that there is a build-up to your happy day!
We hope this helps!
Visit Also:- Banquet halls in Greater Noida