How to choose Baby Shower Invitations?
The baby is on its way, and it's time to start planning the mom-to-be's baby shower! Sending baby shower invitations is often one of the first steps you take when planning a shower. Baby showers are usually a casual gathering with friends and family, but nowadays people are planning a more fancy celebration at baby shower venues.
As the world has gone more of digital that has further led to the introduction of e-invites. People get their invite designed through graphic designers and send them across through whatsapp or emails. When it comes to designing an e-invite or physical baby shower invitation, mostly subtle colours are used such as white, pink, blue or other pastel shades.   
It is also advised to add a little personal touch to your invites and choose invitation designs that match the event's theme and colours. After finalizing the design, the invite can be personalized with all the important party details, including event title, date, time, and location. One can also easily customize the font and colour, envelope liner pattern as well as the stamp design as per the theme of the event. The invitations can be sent via email that that can help to easily track RSVPs online right from the desktop or mobile phone.
Here are some trending designs that have caught our eyes that will surely help to design the baby shower invites: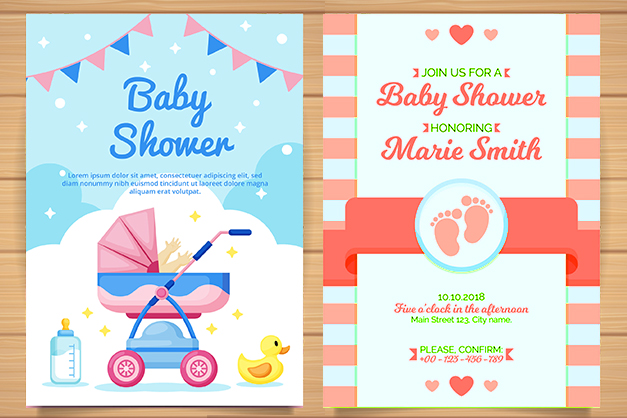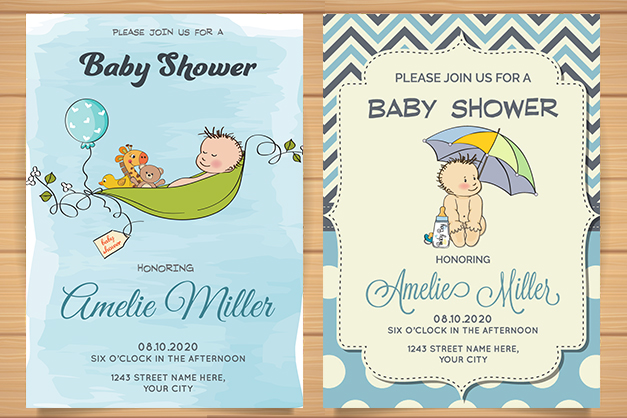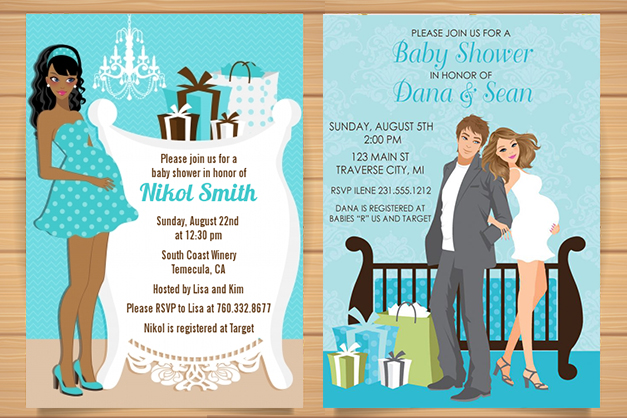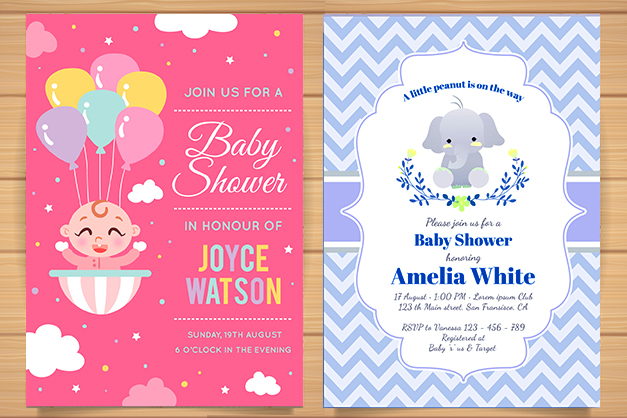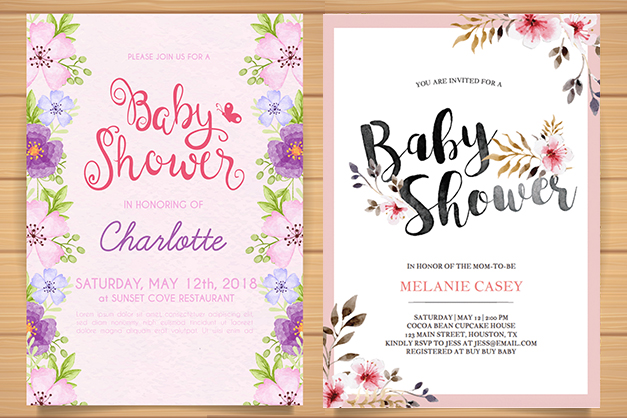 When to send baby shower invites? 
Think about the situation this way: A typical baby shower usually takes place around the sixth or seventh month of your pregnancy, therefore your baby shower invites can be sent out about four weeks beforehand. So this would be your five- or six-month of the pregnancy. If you sent them earlier than that then your guests might forget about it and if you send them a little later than that then they're more likely to have already made some other plans.
Also, select appropriate baby shower wording for the invitations. You can go for inspirational quotes, rhyming words, and cute phrases that will add a touch of personalization to your baby shower invitations making them more perfect. You can also explicitly state on the invitations important things like if the shower is a surprise, not bringing the gifts, directions to the venue, the theme of the event etc.
Here are some examples of quotes that you can add to the baby shower invites…
Blue or pink, what do you think? Come find out!"
"Girl or boy? Either way, we will be filled with joy."
"He or she, what do you think our little baby will be?"
"We've got a surprise cooking. Join us for our shower and find out what the surprise is for yourself."
"Will our baby be a girl or a boy? Come cast your vote at our gender reveal party."
"It's time for a bows or bow-ties party."
They're expecting a baby, a new bundle of joy. A very special gift, be it a girl or a boy! 
A brand new baby is on the way, so let's celebrate with a special day! 
If you would be so kind, instead of a card, please bring a book that you have signed.
"You are invited to celebrate our newest addition! Please bring a book and sign the inside for our little one."
"Come join us for a diaper and wipes the party."
"There's a bun in the oven and burgers on the grill. Come celebrate at our couple's diaper party."
Bottles and booties and bibs and more, Let's shower the baby with gifts galore! Please come to a Couples Baby Shower
Girls need pink, boys need blue. What will Melissa's baby be? We don't have a clue! So let's get her clothes and maybe a toy, anything that would be good for a girl or a boy!
Which design did you love the most? Tell us in the comments below…
Also, Check Out : A special wedding prepping guide for parents!