Finding Your Dream Wedding Venue: A Comprehensive Guide to Delhi's Top Options
When it pertains to organising your perfect wedding, one of the first and most crucial decisions you'll make is selecting the right dream wedding venue. All the pre-wedding events and of course, your big day should take place at a venue that screams your and your significant other's personality. We often have a detailed checklist for choosing a venue but in a city as bright and eclectic as Delhi, there is a vast array of wedding venues. We've compiled a comprehensive list of the best wedding venues in Delhi to help you through this thrilling yet overwhelming process.

1. The Leela Palace, New Delhi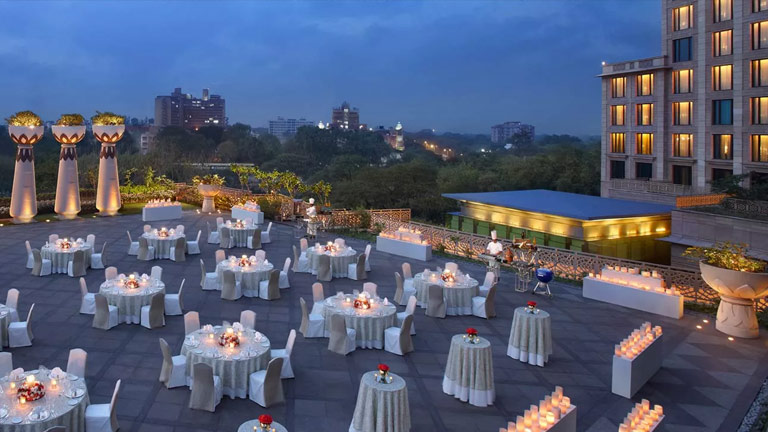 The Leela Palace is one of the most sought after venues in Delhi due to its classic and rich hospitality service. This premium hotel is characterised by its luxurious interior design, outstanding architecture, and exceptional service. The Leela Palace features both indoor and outdoor facilities, as well as beautifully kept grounds. Not only it is an exceptional hotel with great hospitality services, but many families have hosted beautiful weddings under the expertise of the hotel staff and have never been disappointed. The years of experience of the hospitality team ensures that your wedding day is their priority as well.

2.The Roseate, New Delhi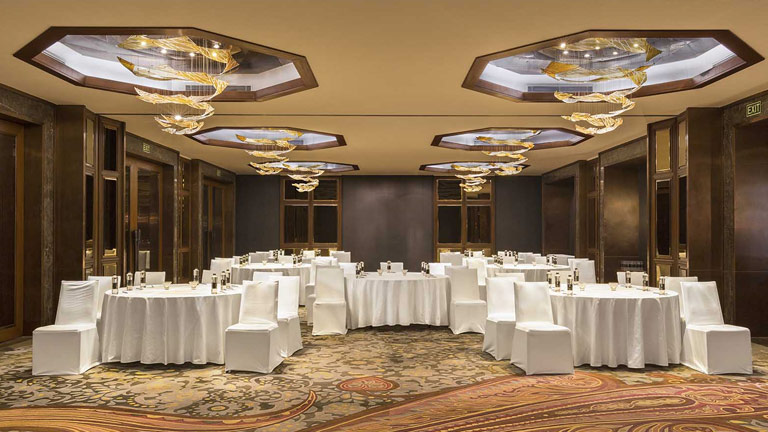 The Roseate is a luxurious resort located on the outskirts of Delhi, near the airport and it is an excellent choice for a wedding venue that offers a tranquil escape from the hustle and bustle of the city. If you are looking for something that falls in the categories of luxury wedding venues and romantic wedding venues, then this is your place to be.The Roseate has a mix of indoor and outdoor spaces, surrounded by serene water bodies that add peaceful elements to the overall setting. It's a beautiful setting for both intimate gatherings and large wedding celebrations. The resort's unusual blend of modern architecture and natural beauty offers a serene and romantic backdrop for your special day, making it an escape from reality.

3. The Ritz, Gurugram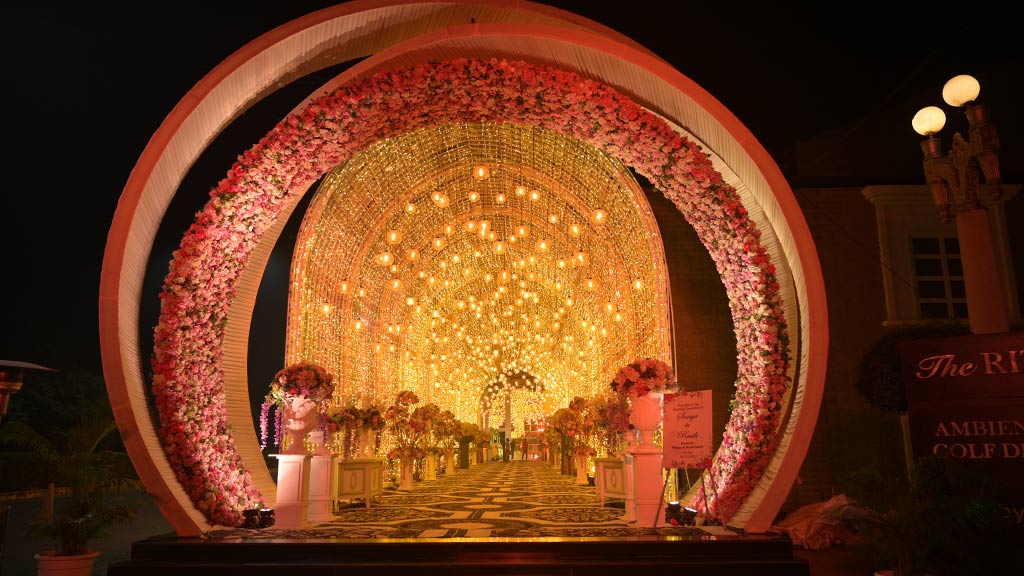 If you are looking for a luxurious wedding venues that shouts sophistication and royalty on a magnanimous scale, then The Ritz is the place to be. It is located on the Ambience Islands in Gurugram. It offers a grandeur setting for weddings and pre-wedding events, mostly famous for hosting cocktail events. The regal banquet hall has a pictureqsue backdrop and every corner of the venue oozes luxury. The charm will definitely will everyone speechless on your special day. The Ritz is known for its attention to detail and consists of all the amenities to throw a high-class wedding.

4. The Oberoi, Gurugram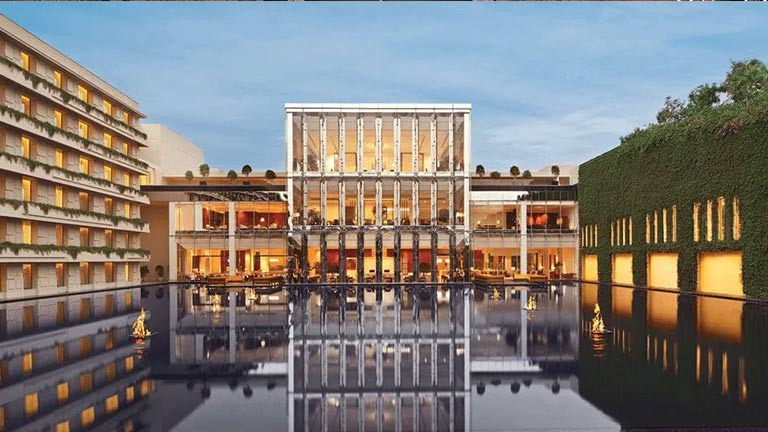 The Oberoi in Gurgaon is a contemporary accomodation that offers a great blend of luxury and contemporary style. The professional staff at the hotel, with their years of experience in wedding planning and management, guarantees that every element of your special day is properly executed. The hotel has a contemporary and abstract layout, making it a memorable experience for the guests to be able to enjoy a wedding in this hotel. The magnificent outdoor settings, beautiful banquet halls and luxurious lodgings at the Oberoi make it a great choice for couples looking for a premium wedding experience. Equipped with top-notch facilities, the hotel offers all the possible services for a luxurious wedding.
Also Read – Luxurious Retreat: Exploring the Opulence of Udman Hotel Greater Noida
5. The Tivoli Gardens, Chattarpur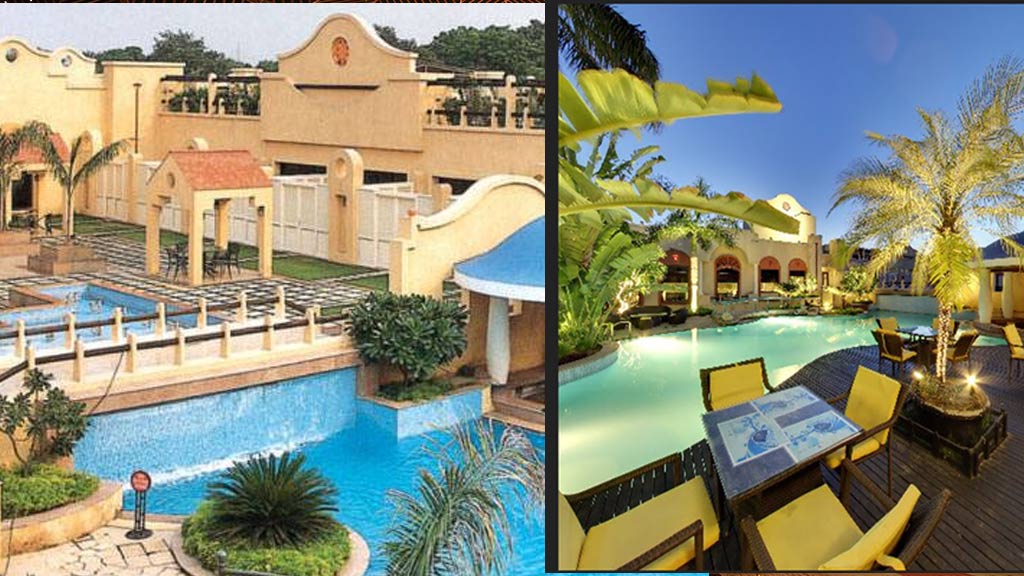 Tivoli garden is a dream come true for those seeking a green, lush and scenic wedding venue for their special day. As much as people love this venue for its central location in Chattarpur, South Delhi, it is also known for its beautiful landscaping and vast garden. Tivoli Garden is admired for its lush garden and big lawn and this venue is booked most of the time during winter season. It is one of the first premium wedding lawns in New Delhi and hence, it is a popular choice among wedding planners. The garden and hall at Tivoli can accommodate any size of gathering and it is equipped with all the amenities for hosting a marvellous wedding.

6. The Claridges, New Delhi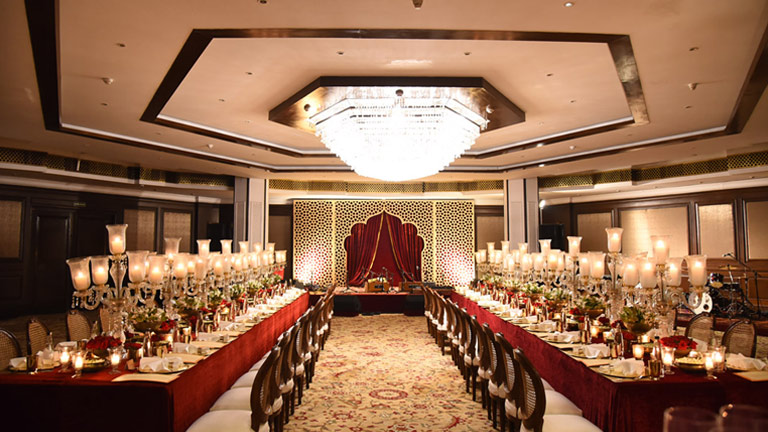 Out of all the luxury hotels in New Delhi, The Claridges is one of the popular ones. The overall aesthetic and architecture of the hotel oozes luxury and has a quaint touch to it foran intimate wedding. It is a classic hotel for a residential or destination wedding, with professional staff with years of experience. It provides a regal atmosphere and classic infrastructure from the British era, adding richness to your wedding experience. As the hotel is mostly booked out, it is advised to book your dates as soon as you finalise the wedding dates. Addtionally, it has a serene lawn which serves as a perfect setting for pre-wedding events.

7. JW Marriott Aerocity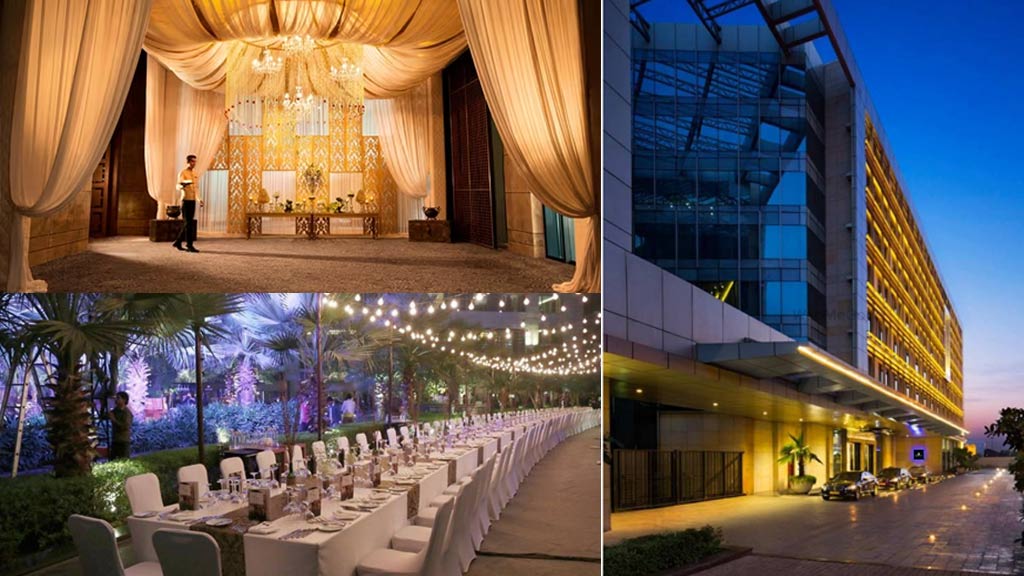 JW Marriott Aerocity is located near the airport, in an ecosystem of luxury hotels Aerocity. It is noted for its modern architecture and first-rate amenities. We all know that you can never go wrong with a hotel chain that is recognised worldwide. This upmarket hotel has magnificent function spaces that may be tailored to your wedding theme. The location provides a classy experience for your wedding celebrations and can accommodate a big guestlist. With various spaces within the hotel, you have an option to host from big events to small gathering and pre-wedding events.

8. The Leela Hotel, Ambience Mall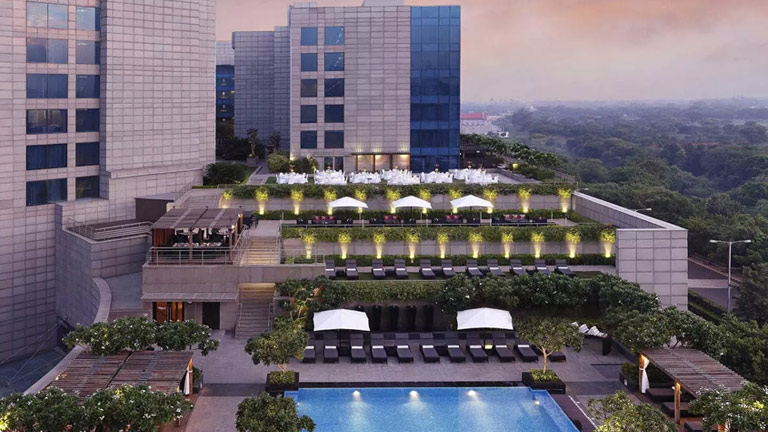 The Leela Ambience Hotel, located in Gurugram, is a well-known wedding hotel famous Delhi/NCR-wide. Located adjacent to the popular Ambience Mall, it has all the convenient amenities for your guests.  With its lofty ceilings and sophisticated design, the spectacular ballroom is ideal for spectacular celebrations. In fact, the Leela Hotel offers a range of banquet halls that you can choose from, based on the size of the gathering. In addition, the hotel has beautifully planted grounds that are suitable for outdoor events and celebrations. It offers a variety of rooms and serviced apartments that you can book for your celebrations.
It is very important to visit your chosen venue in person to check out the location, event spaces, and meet the personnel to ensure that your ideal wedding is accomplished flawlessly. Most of the venues that you will choose from have hosted hundreds of weddings. Each venue has different sets of amenities that will help you accomplish your dream wedding. When choosing a wedding location, numerous factors must be considered, including your budget, personal preferences, number of events, and so on. Delhi has a plethora of wedding locations, each one distinctive and stunning in its own way. You will never run out of acceptable selections for your big day this way.