How to Choose the Right Makeup Look for Your Roka or Engagement?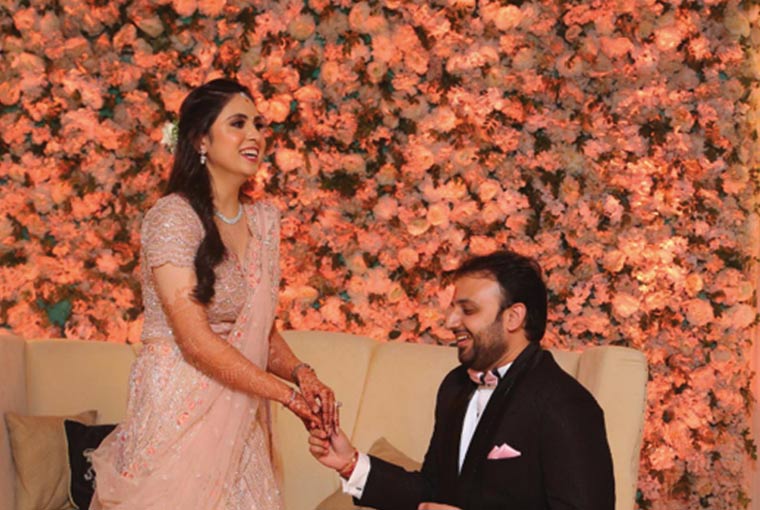 Way before your wedding, your roka or engagement pictures are used to announce your union. Plus, it's your wedding's function, therefore, you can't afford to go all out with your makeup. It's the right time to experiment with your look too so that you can see what suits your skin and what looks good in your pictures. But, we strongly advise you not to go out of your comfort zone. Nowadays, pictures are really important, you have to look flawless in them plus it is best to look like yourself or even a more polished version of yourself. Fret not, here are some tips that will help you nail your look on your roka or engagement and have the perfect pictures as well.
Modify your look as per the venue
If you are planning to take taking pictures poolside or near a water body then keep in mind that water is very reflective, therefore you would need to apply a little bit of highlighter and also add a touch of loose powder to get that glow. You would also need to smudge the edges if you are planning on wearing black eyeliner, to make it look softer.
For some great pictures in a closed venue like a ballroom or close banquet, you would need to make sure that you powder your oily areas, as the bright lights can accentuate your natural sheen, especially on the forehead.
Pro tip: The angle of your head is really important in the shots. You should tilt your head down a bit and slightly jut your chin forward. This tilting will help you with softening the shadows making your jawline looks defined. It may feel weird to you but trust us it looks great in pictures. Also, add a little bit more blush than usual as formal lighting is often on the dark side which may look washed out.
Keep your outfit in your mind
If you are going for a nice feminine gown or a lehenga then you should opt for a soft, smoky eye. If you're going to wear something on the simpler type like a suit or sharia then you can go for something traditional like cat eyeliner and a glossy, pinky-peach lip.
Try a natural look if you are not used to make-up in your daily life
The no make-up look is trending nowadays. For people who are not that inclined towards a full-on make-up look in their normal life should go for a base that even out skin tone without looking like you're wearing makeup. Then on that, they can add a small amount of blush to their cheeks, and subtly define your eyes by tight-lining with kohl liner. Don't forget to curl your lashes to make your eyes look brighter, fill in your brows with a soft powder. Finish your look with a nice glass or a subtle lip shade. This look will make you look pretty, effortless, and natural which will surely result in some amazing pictures.
Just follow these tips and you are good to go!