How to get fit in 30 days before the wedding?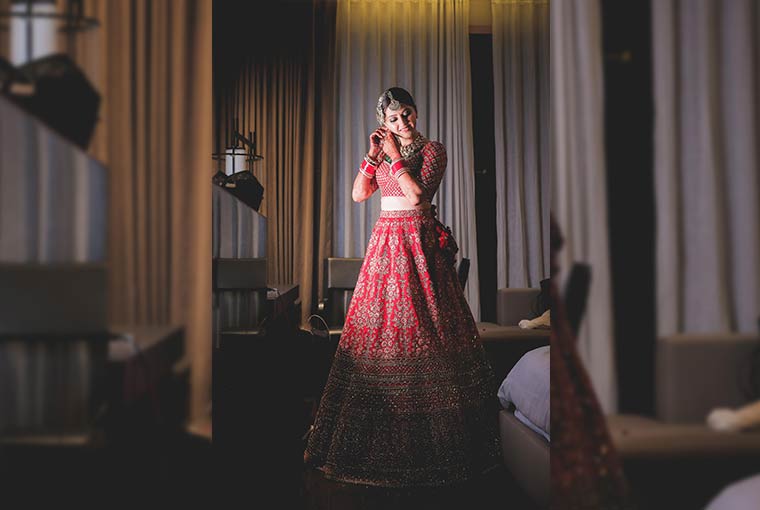 We know, you want to look the best at your wedding and for that, you really want to get in shape as soon as possible. But this is not easy at all, especially in that wedding madness. Being the bride there must be millions of tasks in your hand and amidst all that this not at all a piece of cake. We totally understand that you won't be able to take out time to go to the gym. We would love to tell you that 30 days before the wedding functions are very crucial and you must be looking for something to lose some pounds.
In all that wedding planning you really need to take a holistic approach to take care of yourself. You must be going the Korean for the perfect skin, trying to get that glow before the wedding. So if you are looking for something that can tell you what to do a month before the wedding to look all fab on your D-Day! As you have got so much time in your hand you can follow the below mentioned 30 days right fitness plan with the right diet to go with it.
We have tried to mention all the necessary things to give you an all-round fitness and diet plan for all the brides-to-be to make your pre-wedding fitness journey really smooth.
So keep scrolling and do try it out to look like a dream on your wedding functions!
30 Day Exercise Plan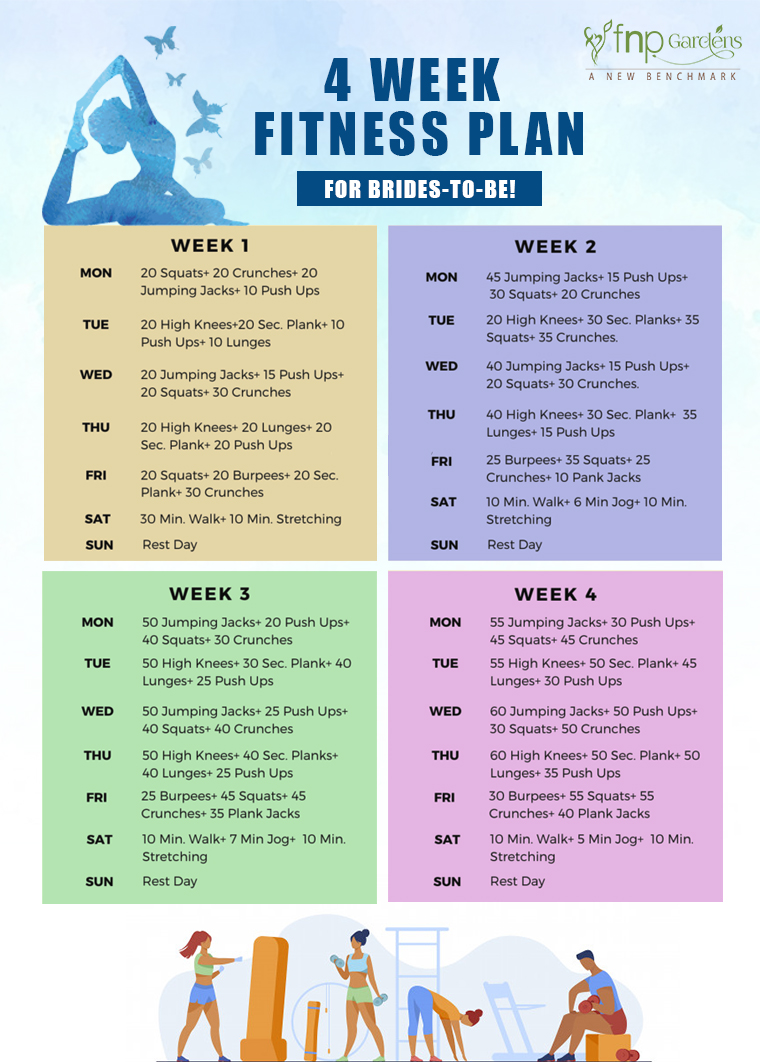 If you are thinking of how to start your fitness regime then here is everything you need. You need to have a dedicated workout routine for yourself. Fret not, we are not telling you to go to the gym every day as you won't be able to due to the Coronavirus Outbreak. Therefore, we are giving you tips on how to work out by yourself at home. So, here is a fitness plan with some effective exercises that can easily be done without any equipment support and indoors.
With these exercises, you also need to check what you eat so that your workout is more effective. You also need to take a healthy and proper diet and also avoid junk food or unhealthy beverages. Plus, drink lots of water to stay hydrated.
The most important thing to keep in mind is that you need to start your workout with small steps. Just don't go all out with heavy exercises as your body will feel sore all the time.
One more thing- The best time to work out is either early morning or between 4 to 6 pm in the evening.
Diet Plan To Follow for 30 days
Eating right and following a healthy diet plan isn't an easy thing to do especially when you are working bride who is also planning her wedding. Living with an unhealthy diet can make you feel drained of energy, foggy, tired, uninspired and downright bored. Plus, it would be a bad thing for you being the bride.  You have to refrain from all the junk and unhealthy food. You also need to ditch processed food that is high in trans-fat, sodium, and sugar, as well as artificial ingredients which may make you feel sickly or lethargic.
A healthy diet plan with a great workout routine will surely do wonders for you. This 30-day diet plan for all you brides-to-be will surely help you get in shape before the much-awaited wedding!
This healthy journey is not at all about being curvy or skinny. You all will make a beautiful bride no matter what others say or think. All you need to do is embrace yourself the way you are but you should stay fit which should always be your first priority!