#LockdownWeddingStories: A beautiful Gujrati Wedding amidst lockdown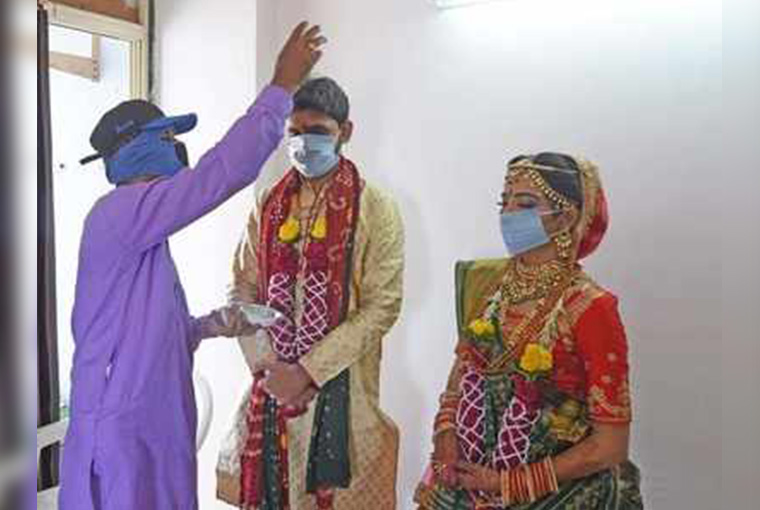 We just can't get enough of the couples who are tying the knot amidst this CORONAVIRUS pandemic. Just like those couples, a Gujrati couple gave us major #LockdownWeddingGoals. Recently, Sachin Shah and Stuti Kinariwala had an intimate marriage ceremony In Ahmedabad during this pandemic.
They planned to have a big celebration on 28th April this year, but this lockdown situation made them put a halt on their big plans by their families. So, they decided to go on with the marriage plans and got married on 25th May 2020. There were only 9 people present for the ceremony, four from each side and a priest.
The couple, as well as their families, were really happy with this intimate ceremony. They also had to fill in several online applications and with that, they also had to visit government offices in their respective districts to get all the necessary approvals for the marriage. The groom's family is from Surendranagar district, whereas the bride's family stays in Ahmedabad.
In an interview, the couple also quoted that they planned on a grand wedding but they were happy to have such a wedding too. The groom's father Mitul Shah and his family drove to Ahmedabad from Surendranagar, for this marriage ceremony in Ahmedabad and returned with the newly-wed couple.
Sachin and Stuti were together since their school time in Ahmedabad. They decided on an April date for their wedding but when the first lockdown was announced from March 23, they thought that the things will be normal by the time the marriage date but as we all know the lockdown kept on exceeding and the families didn't want to wait for long.
Also, they tried really hard for getting the permissions from both the districts for the wedding. At first, they didn't get it, but after so many efforts they did got it to solemnize the wedding.
In the end, we would say, "Whatever happens, Love finds its way"!
Also Read – Some Digital Gifting options to pep up your partner's mood during this lockdown
Image Source: The Times of India