Still confused between single or double dupatta for your wedding day? Here's a little help!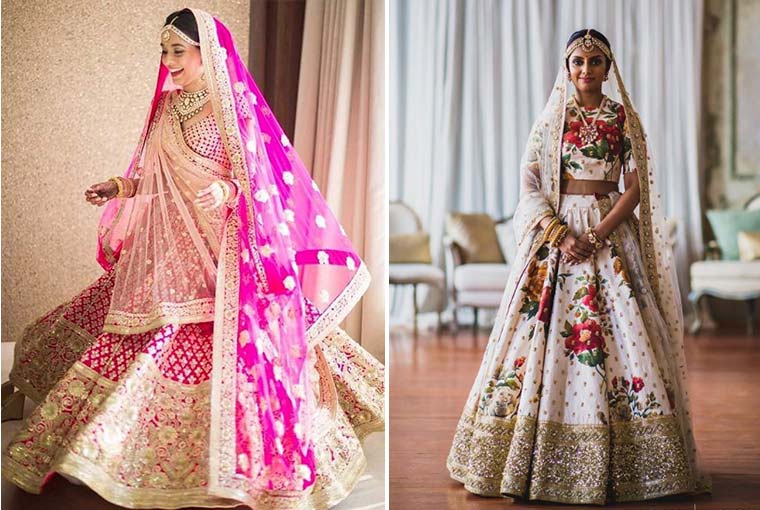 Nailing that bridal look is one of the most difficult tasks that we know of. The struggle is real when you have to make so many decisions! Nowadays the most common dilemma faced by all the brides-to-be is to choose between pick double or single dupatta for their bridal lehenga. It is a bit difficult task to choose between the two as both of them have their own distinctive look and charm. Usually, the new-age brides are switching to double dupattas because of their traditional appeal, but some want to stick with one as they look modish and contemporary.
Enough of confusions and dilemmas… Here is a complete guide that can help you make a decision between single vs double dupatta!
Why single dupatta?
If you want to look all simple and minimalistic, then don't think twice switching to the single dupatta
If you are going for a two-toned lehenga, then also you should stick to single dupatta as it may look a bit OTT if you add many colours
You should also avoid an extra layer of dupatta over your lehenga if you are getting married in summers. One more fabric draped may make you a bit uncomfortable as it may be a bit humid
Why double dupatta?
Before making a decision, do test the weight of your bridal dupatta that will help you solve your confusion. If the dupatta with your lehenga is too heavy to be worn on your head, then get another lighter one for it and use the heavier one for your waist and shoulders
If your bridal dupatta is less than 2.5 meters then that dupatta can go over your head. In this case, you would need one more to be draped over your lehenga
Double dupattas can also be used to add a contrasting colour to your lehenga. A different hued dupatta will help you to add a pop of colour to your monotone lehenga
Trust us, the trend of double dupattas have served as a blessing for the curvy brides who want to hide their belly fat and still want to go for the normal length of the blouse. All you need to do is style the second dupatta around your waist that will hide your tummy area with no efforts
Double dupattas are also a saviour for all the winter brides! You can opt for a pashmina or a velvet stole as your second option
We hope this guide will help you sort your all the confusions.
Also, read: Important things to know before going for your Bridal Lehenga Fittings