Why is it necessary to stay hydrated on your wedding day?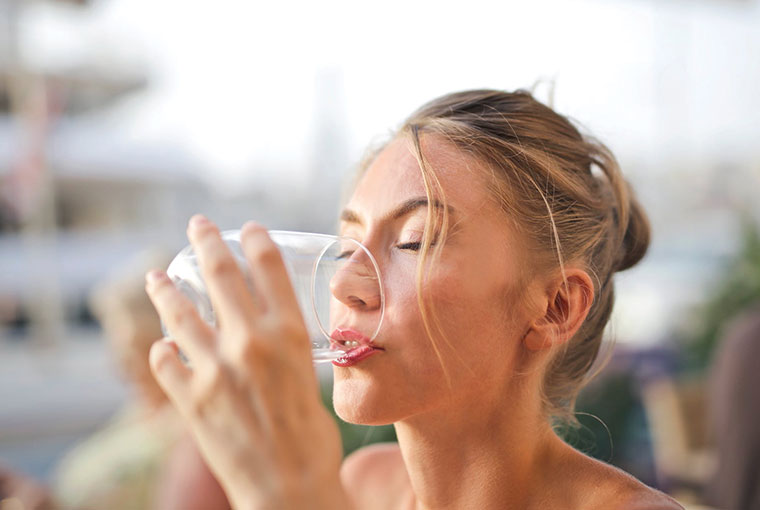 We are all aware of the fact that our bodies are made up of 60 per cent water from which we can conclude how important H2O is for our overall health. Therefore, you have to stay hydrated that can help you stay hydrated which further helps our body to function properly and get that glowing skin, normal body temperature, strong immune system, enhanced mental functioning and above all the ability to recover faster from rigorous workouts. Enough said, drinking enough water daily is really important but if there's one day when you can't afford to be dehydrated, it's on your wedding day. Though you must have put in a lot of efforts to look your best, and being hydrated will help give you desired glow on your wedding functions.
Also, so many brides tend to ignore eating much on their wedding because of jitters or lack of time or even to fit perfectly in their wedding dress. But if you don't eat much that too with less o water intake then it will heighten your nerves, plus if in that tight dress in a warm room can lead to a nasty headache or even fainting which should not happen on your D-Day!
Here is a little help from our side that will ensure that you have enough water. Here are the best tips for sneaking a good amount of hydration on the wedding day.
Keep yourself hydrated throughout the wedding week
It is strongly recommended to the brides to drink plenty of water in the days leading up to their wedding celebrations. This will make sure that you are all hydrated on your wedding functions. Above all, it will help you get those energy levels to celebrate all your wedding functions without any discomfort.
Start your day with a large glass of water
Though many people don't like to start their day with it on your wedding day you should have a large glass of water before you start anything. This will give you a kick start and help you stay in the right state of mind. So keep in mind that staying well hydrated is way easier than trying to reach that water levels when you are all dehydrated!
Keep a check on your sodium
You should know that too much salt intake will force your kidneys to work overtime to flush out the extra sodium. This will further use up more water and forces your body to pull water out of cells. Therefore, instead of having those wafers or fries eat some hydrating foods such as fruits and veggies that are high in water content and low in sodium content.
Don't forget to keep having water in between your alcoholic drinks
Trust us, it works. Keep a glass of water with you and instead of sipping one glass after another having a glass of water between then will help you prevent dehydration. Alcoholic drinks have a tendency of reducing the body's production of the antidiuretic hormone that controls retaining of fluid in the body which will further lead to the production of more urine than necessary, leading to dehydration which is not what you want on your events.
Ask a bridesmaid or your sibling to be on water duty
It is really difficult to remember having enough water on your functions. Believe us, it is quite tricky that is why it would be really important to have someone else in charge of your water. You can even ask someone to set an alarm or reminders on their phone to remind you to have water or even bring it to you!
So, stay hydrated!