How to inform your guests about wedding-related changes even after sending invites?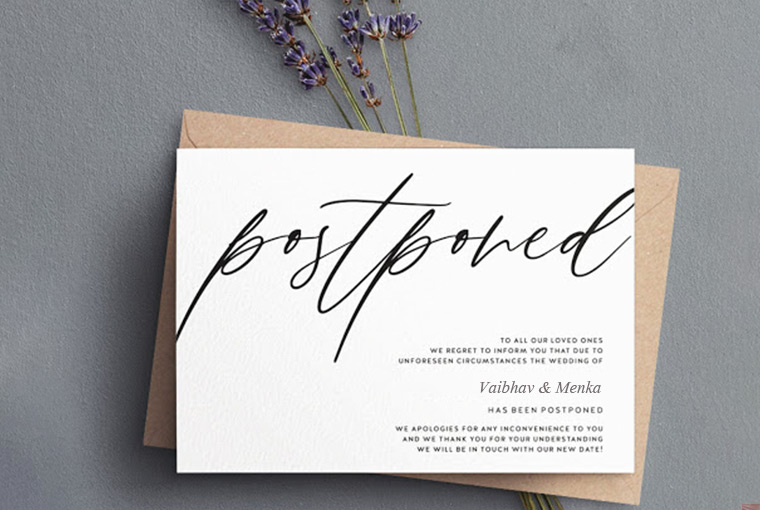 The year 2020 has taught one thing to all the couples across the world, that it's good to be over-prepped. As the pandemic has hit our worlds, the wedding celebrations have become all about following guidelines such as social distancing, minimum gathering, restricted travels and so on which are constantly changing too. Therefore, it has become essential for couples to have a plan in place to notify their guests about the changes to the wedding celebration and that too when invitations have already been sent. If you are also facing the same issue and want to send some change in plans creatives then here are some tips on how you can share them quickly and effectively with your guests when invitations aren't an option.
Sending a second, smaller card
You need to understand that the way you convey the updated plans your functions should be reflective of the importance of the change in your plans. For example, if you want to convey the change of venue, then you can mail a small mailing card designed that coordinates with the original e -invites. You can even go for an affordable option so that these changes don't mess your budget.
It's better to go digital!
We live in the digital age now, so we would suggest you drop the idea of sending a physical card. Plus, if you are short of time and can't rely upon postal services, then it's better to send them online on WhatsApp or through emails. You can be a little creative with the picture and add the address of the new venue with a map. You can broadcast it to all the guests, instead of sending onto the group as people replying on it can make the important information get lost.
Try to plan ahead with  a list of all the contact numbers and email ids of the guests beforehand
If you are making a guest list for your wedding then we would advise you to make a proper excel sheet with all the information and contact details of the guests. You should have their updated addresses, email-ids, contact numbers and well as their WhatsApp numbers.
Having all that updated information from the everyone beforehand will make it easier for you to notify all your guests about any of the last-minute changes in your wedding plans. Therefore, you should be prepared for it beforehand.
Pro tip: Don't be afraid of sharing too much communication.
Visit Also :-How to Make Virtual E-invite for Wedding