Some Mistakes To Avoid Before Finalizing A Bridal Makeup Artist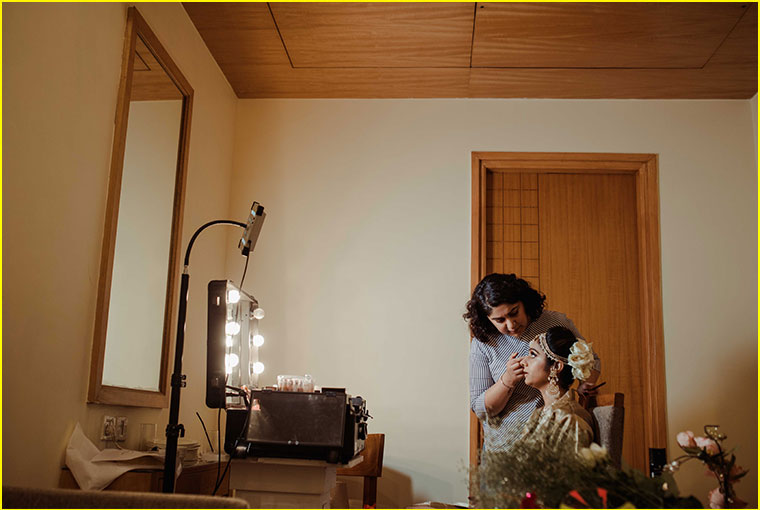 We all would agree to the fact that makeup artists have the ability to make or break your bridal look. Their brushstrokes create a magical look that gives you that perfect wedding look for your big day. Just like your wedding photographer who captures your big day, you cannot go without hiring a perfect makeup artist. After all, your wedding pictures are a keepsake for life and you can't compromise the way you look in your pictures with that uneven face texture or dark circles.
You must have gone through various Instagram profiles of makeup artists but there are certain mistakes that you should avoid making before hiring a bridal makeup artist!
Not booking your MUA it at the right time
The day your wedding date gets finalised the clock starts ticking, therefore don't think too much. Usually, a popular makeup artist becomes unavailable or fully booked at least 6 months in advance which means that you won't be able to hire them to doll you up. Therefore, check their availability in advance along with the charges to book them for your wedding. Also, don't forget to ask them how many makeups do they have on the same day.
Forgetting to research what kind of makeup artist or makeup do you want
You need to be clear what kind of makeup as well artist do you want on the big day! There are various options available such as celebrity makeup artist, high-end MUAs, budding freelancers or salons next door. Just don't be book the first one you come across. Take your time and research before finalizing. It is advised to book different artists for all occasions to look different at all your functions. Plus, also make a decision between HD or airbrush. If you need help in choosing between this too then read this blog.
Ditching trials
Again, don't let your wedding look to be a total surprise for you! You must have got through your MUA's portfolio but nothing can beat an actual makeover. So don't skip scheduling a trial with your makeup artist.
Not asking about their price breakup or cancellation policy
As we have mentioned in earlier blogs to stick to your budget therefore, don't forget to discuss the price breakup your MUA.  Don't ever hesitate to ask about ongoing deals and discounts. And the most important thing- know about their cancellation policy in case the booking is cancelled by you or them!
Don't forget to ask these questions
We would advise you to ask the below-mentioned questions as they will help you understand your MUA as their services better.
Number of people in their team
Do they have a studio?
What brands do they use?
Do they have a hairstylist or they will do it themselves?
How many bookings do they have on the same date as yours?
Trust us, avoiding the above-mentioned mistakes will surely help you to have the best MUA for your big day!
Also, read: Things to keep in mind before finalizing your Wedding MUA